Ingredients:
1 cup and 3 tablespoons wheat flour
1 cup rye flour
1 cup milk
25 g fresh yeast
1 tablespoon rapeseed oil
1 tablespoons sugar
1 tablespoon Himalayan salt
Method:
Proof the yeast: crush yeast in a bowl, add 1/4 cup of milk, 1 tablespoon of sugar and 3 tablespoons of wheat flour.
Mix the ingredients well, cover with a cloth and leave for 20 minutes in a warm place.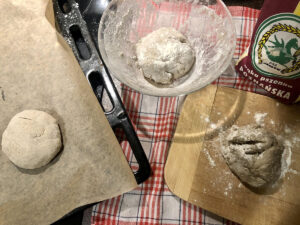 Place wheat flour and rye flour in a large bowl, add oil, salt, the remaining milk and yeast.
Knead the dough and form 4-5 rolls.
Place the rolls on a baking tray and leave them for 20 minutes.
Bake for 20-25 minutes in the oven preheated to 200 C.