Golden milk or Ayurvedic warming, immunity booster drink 
How did I find out about golden milk? I have been interested in subjects related to yoga and Ayurveda for some time. One day, when browsing the net, I came across this magical recipe. Currently in winter, when it is easy to catch a cold or suffer from frequent infections, this subject should help many people. And then I thought that I should share with you this recipe, which impressed me when it comes to health boosting properties.
Golden milk can be prepared in several ways. The recipe below is for one serving of the drink or turmeric paste which you can use to easily prepare the drink. I personally recommend you preparing the paste. Its preparation requires slightly more time, but it brings out a much better taste.
Recipe for one serving of golden milk:
1 cup almond milk
1 teaspoon ground turmeric
1/2 teaspoon grated ginger
1/2 teaspoon cinnamon
1 pinch pepper
Approx. 1-2 teaspoons honey for taste
Pour vegetable milk into a pan and warm it up (without bringing it to a boil). Add spices to the warm milk and mix well. At the end, pour honey. Do not add honey to a hot/boiling drink.
Golden turmeric paste recipe:
1/4 cup ground turmeric
1 teaspoon ground ginger
1 teaspoon cinnamon
1/4 teaspoon pepper
Approx. 1/2-3/4 cup water (water should be in 1 to 2 proportion with dry ingredients)
Pour water into the pan and add the remaining ingredients. Warm it up while stirring until you obtain a thick paste. Put the paste into a jar and keep it in the fridge.
Recipe for golden milk from paste:
1 teaspoon turmeric paste
1 cup almond milk
1 teaspoon coconut oil
honey – to taste
Pour vegetable milk into a pan, add the paste and coconut oil and warm it up. At the end, add honey and mix together.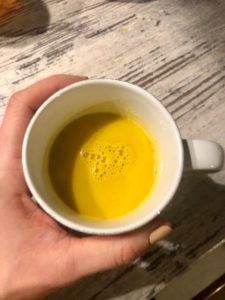 Golden milk has a strong warming effect, it naturally boosts immunity, cures infections and reinforces the immune system. It has also a calming effect and improves the mood, which is especially important during wintertime.
I recommend it to everyone who is prone to infections, has lowered immunity, suffers from autoimmunological diseases, tends to get depressed, and just everyone who wants to take care of their health in a natural way.